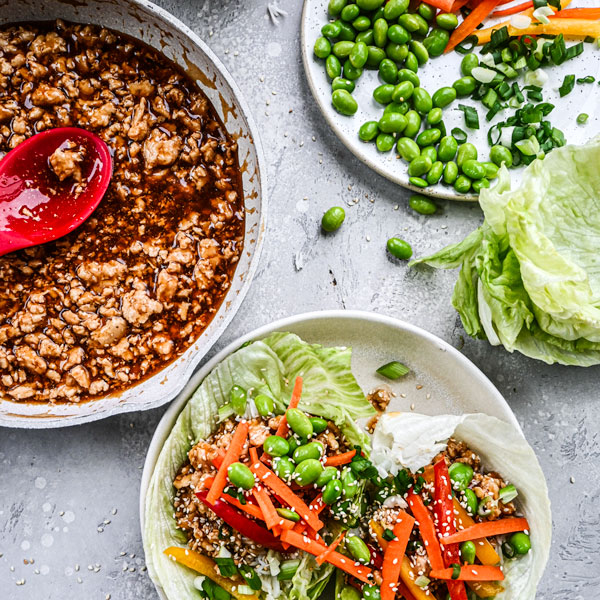 We paired up with @MealPlanAddict to create a delicious recipe using Edo's Signature Teriyaki Sauce. Enjoy this delicious recipe, that has a healthy twist! Make sure to check out their other recipes at www.mealplanaddict.com
Ground chicken teriyaki lettuce wraps are a quick weeknight dinner when you use Edo Japan's famous teriyaki sauce and then load those lettuce wraps up with rice and veggies for a big crunch and saucy dinner! Here's a fresh and easy chicken teriyaki dinner that's great for any day of the week! This is an ultra quick dinner, and it packs a ton of flavor, thanks to Edo Japan's bottled teriyaki sauce!
Load up those toppings too – sliced carrots, edamame, and thinly sliced red pepper work well here, but feel free to add fresh herbs and even some fresh thinly sliced cucumber!
Prep time: 20 Minutes
Cook time: 10 Minutes
Ingredients
Serving size: 2
1 lb ground chicken
1 bottle Edo Japan Teriyaki Sauce
1 head romaine lettuce, sliced in half, and inner core removed so you are left with lettuce cups.
1.5 cups rice (any rice you wish, works here)
1 red pepper, thinly sliced into sticks
2 large carrots, thinly sliced into sticks
1 cup cooked edamame beans (not in the pod) check your grocery store's frozen foods section for these.
Steps
Prepare the rice as per the directions on the package.
Meanwhile, with medium high heat, cook your ground chicken until no longer pink.
Add the bottle of Edo Japan Teriyaki sauce. Reduce heat and simmer for 3-5 minutes until the sauce is hot.
Remove the teriyaki chicken from heat.
Assemble your wraps by filling a lettuce cup with rice, then teriyaki chicken, followed by the veggie toppings.
Enjoy right away or pack each component up separately and store in the fridge for no more than 4 days.
Notes
The cooked chicken and sauce can be frozen for future wraps. Allow to cool fully, transfer to freezer safe container for up to 3 months. Make it a meal prep recipe by storing the pre cut veggies (and lettuce), teriyaki chicken, and rice in 3 separate containers. Reheat the chicken and rice in the microwave and then assemble the wraps. Teriyaki chicken can be stored in the fridge for up to 4 days max.