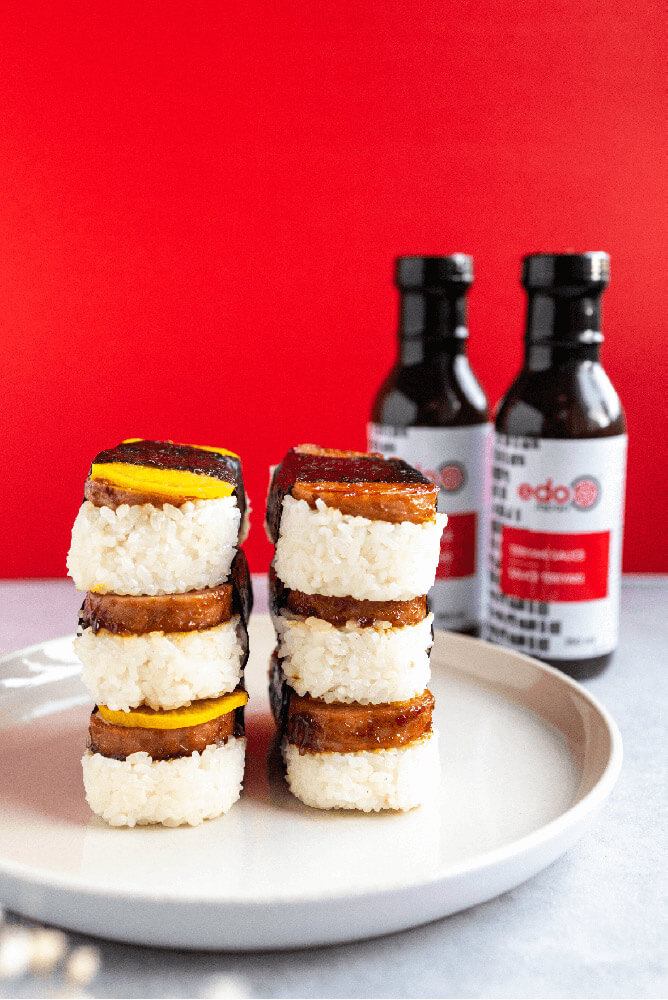 We partnered up with @cookingwithchow to create a delicious recipe using Edo's Signature Teriyaki Sauce. Enjoy her Teriyaki Spam Musubi!
If you've travelled to Hawaii, you can recall that Spam musubi is a staple there. It's the perfect treat for either a road trip to North Shore, a morning after a sunrise surf, or simply a treat to grab-and-go. Seasoned sushi rice with lightly seared Spam and coated with Edo Japan's delicious Teriyaki Sauce makes this musubi a delicious quick and easy snack.
Prep time: 15 Minutes
Cook time: 15 Minutes
Ingredients
Serving size: 6
Sushi Rice
2 cups washed sushi rice
2 cups water
¼ cup rice vinegar
¼ tsp salt
2 tbsp sugar
Teriyaki Spam
1 can of low-sodium Spam, cut into 7-8 equal pieces
1 tsp oil
2 tbsp Edo Japan's Teriyaki Sauce
Toppings
Sliced Japanese yellow pickled radish (Takuan)
Nori seaweed sheet cut into 1.5" long strips
Steps
Sushi Rice
Wash and rinse sushi rice until the water drains clear.
Cooking Options: Stove top: Combine rice and water into a pot. Simmer for 20 minutes. Instant pot: Combine rice and water into pot. Manual High Pressure for 10 minutes. Natural release for 10 minutes.
Season the sushi rice
Combine rice vinegar, salt, and sugar into the cooked rice. Fluff the rice with a fork. Set aside.
Teriyaki Spam
Pan-fry the Spam
Heat up a skillet on medium heat, add in 1 tsp of oil. Cook Spam slices on each side for 2-3 minutes until lightly charred.
Combine Teriyaki sauce
Add in 2 tbsp of Edo Japan's Teriyaki sauce to the skillet. Cover and coat the Spam pieces. Continue to cook for another 2 minutes until the sauce evaporates. Remove from the heat and set aside.
Toppings
Add sushi rice into the musubi mold (you can use the Spam tin can) until it's about 1 – 1.5" tall. Press down firmly with the back of a spoon so that the rice is compressed.
Layer in 1 piece of Spam on top of the rice. Additionally, you can add in other toppings such as sliced Japanese pickled yellow radish, kimchi, or tamago.
Carefully remove from the mold.
Wrap with 1 piece of cut nori. Seal nori edges with some water.
Notes
Enjoy and serve warm! If you're not eating right away, wrap with saran wrap to keep moist and fresh.